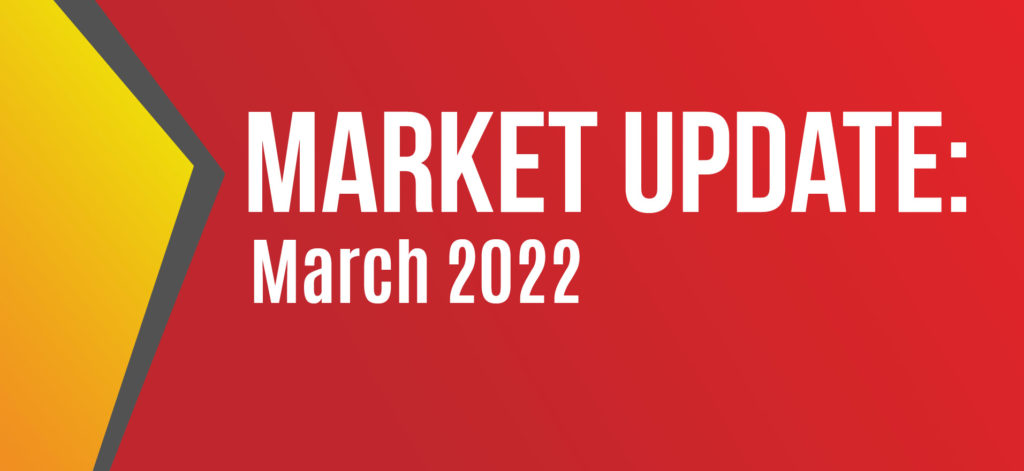 Pigments and Additives
We're seeing the same story as last month with specific additives – FR and fiberglass specifically. The fiberglass and FR shortages will continue to exist through 2022, affecting finished good cost of nearly all polymers as well through the end of the year. Prices have been increasing as the supply has been shorted in the market as well.
Ukraine Conflict
The conflict in Ukraine is creating volatility on supply and pricing moving forward, with significant impact on both regional and global markets. This includes semiconductors (neon gas), resins and logistics (oil), and white pigment (titanium). All the activity in the energy and feedstock markets has kept an upward pressure, increasing the likelihood that prices will rise in March. Ultimately, China will be the only country buying Russian oil, and increases of output by producers has not yet been seen for the near term.
In terms of supply dislocation, direct impact will be felt mostly in Europe, with the indirect impact of variable cost inflation and supply chain disruption already being felt across the world. This may last for months before pivoting back to stability.
Polymers
We're seeing increases across the board for all polymers in March and into April. PP makers and suppliers are hinting at 8-15 cpp increases in March, and Polyethylene's heading toward 4 – 6 cpp increases in April. PS makers are pushing out 5 cpp increases because of pressure on styrene monomer and benzene feedstock. All the while, demand for most commodity resins has remained strong as the US economy has proved resilient despite inflation and high gas prices.
PC
While the Ukraine crisis has kept upward pressure on commodity prices for March, North American prices for PET bottle resin and PC have increased. PC prices moved up an average of 9 cpp after climbing up to 25 cpp in second half of 2021. The increases of glass fiber, FR and other additives (materials needed for compound and concentrate production) have continued to challenge plastic processors in 2022.
Supply for engineering resins remain tight, though they are improving. Prices for general purpose PC will remain elevated though fairly flat to slightly down until September, when we expect lead times and prices to begin to drop.
By the end of 2022, it is expected that North America will be at price-parity with Asia, and demand will show resiliency. Even with the economic slow-down, the auto, appliance, and electrical markets all continue to be strong as the supply chain needs replenished.
Sabic has announced another price increase on their prime PC alloys products due to inflationary pressure and overall supply/demand dynamics in several of the product market segments. This increase will be effective April 4, 2022, on XENOY™ and XYLES™ resins $0.25/kg
Sabic also has their Burkville plan on 6-week rolling shut down for PC starting early April through mid-May, shorting the market yet again on supply. reportedly, this plant represents 10% of North American capacity, and with the majors still shipping from production and not inventory, the building of inventories won't happen until the end of Q3 at the earliest. This is 3-5 months behind the January expectation of inventory builds in 2022.
Covestro also issued price increases on their prime PC (Makrolon, Apec, Makroblend and Bayblend) by 20 cpp ($0.44/kg), effective April 18 — this is just for 'barefoot' material as the FR increases were implemented last month. They attributed these increases to overall market conditions, including raw material prices, energy costs, transportation fees, and fuel prices, along with global supply and demand. As of today, Sabic has not announced their next increase, but based on the Covestro letter, it's only a matter of time. Implementation date and value are the only 2 things not yet known.
There is a belief that much of the new PC supply coming on in Asia this year will be sold to Europe—not the NA market—due to the increase in profit to be made there than here. Sabic in Europe just announced a 62 euro/kg (30 cpp) for April 1 on GP PC, where NA is only seeing increases based on FR so far. The PC Plants in Asia are at a 62% operating rate and will want to sell the output from the cheap oil they get from Russia.
ABS
Supply of ABS is reported as tight with elevated prices currently and imports are currently about 30% of North American ABS supply.
Effective April 1, Ineos Styrolution America announced increases on two of their ABS products, due to the recent escalation in feedstocks, energy and logistics related to the manufacturing and supply of the materials in the Americas: Terluran ABS and Lustran ABS, both 8 ccp increases.
China, Covid, and Freight…
Covid is rampant in Asia again and they are shutting down cities to stop the surge. Multiple shows in China scheduled over the next few months have been pushed, including Chinaplas®. Chinaplas®, one of the largest annual trade fairs in the plastics industry that typically draws more than 150,000 people with several thousand exhibiting companies each year, has been postponed from its original late April with new dates still to be announced. The returning Covid issues in Asia will also have a big impact on ABS through increases in costs on imports to North America.
Ocean freight, which was about 7 cpp pre-pandemic, is currently 36 cpp / $15,000 container and expected to hold through the end of 2022. Though some spot buys of $9000/container have been reported. Any shutdowns in Asia due to Covid might actually relieve tightness and lower rates in the freight industry as they'll have a chance to clear out some of the backlog that continues to exist today.
Another tactic being used to reduce the backlog is moving containers through the Panama Canal to get material into North America through the East Coast. However, the East Coast is experiencing a major shortage of dock workers, as well as lack of trucks (especially compared to the West Coast). Currently, the ratio of truckloads of freight to trucks available is 10:1 and is expected to go up as high as 19:1 as we move into summer (normal market is 2-3 TLs per 1 truck). With this, we will see trucking costs skyrocket in the near term.
Chip Shortage
A mid-March earthquake in Japan could exacerbate the ongoing global microchip shortage, just as the number of vehicles removed from factory schedules passes the 1 million mark for 2022 YTD.
The disaster left two million households without power in Japan, but also threatens to have ripple effects in the auto supply chain. Following the earthquake, a major producer of automotive chips halted production at three Japanese plants without a clear picture on when full production would restart. About 1.2 million vehicles have been cut from global production plans YTD due to chip shortages, AutoForecast Solutions estimates. That is up from about 929,500 vehicles one week earlier, driven in large part by additional production cuts in Europe and Asia.
As a result, it seems many car dealers are shifting back to pre-ordering new cars vs having lots full of cars for sale. About ¾ of cars and trucks that arrive at the dealer are estimated to be already sold, and this will most likely be a long-term change in the sales process in the new car market.
As usual…
We appreciate your business and being a partner to Star Plastics and we look forward to working with you well into the future. Please contact us at Sales@StarPlastics.com or your local Star Plastics representative if you have any questions about current market conditions or how this may affect upcoming orders.