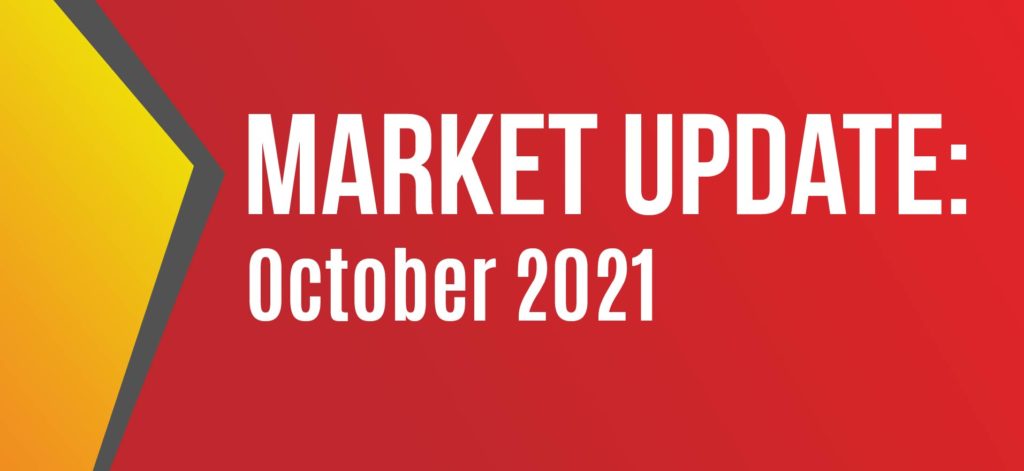 Material prices continue to steadily climb while the supply-demand ratio remains tight. The market is experiencing strong demand above 2019 levels, with large order backlogs and inventory deficiencies.
Logistics issues of costly containers and congestion are still causing problems, and China's energy issues continue to affect multiple aspects of the market. Resin supply, pigments, flame retardants and other additive shortages persist.
PC –
For PC, we continued to see price increases across the board, for general purpose, FR and alloys. Operating rates in North America continue to be 92%, well above the 85% target, and will most likely remain this way through 2022.
Covestro announced increases of 10, 15 and 20cpp for their GP PC, GP PCABS and FR PCABS, respectively to be implemented on December 1st.
Sabic also released a string of increases, including a 23 cpp increase on specialties in North America and Europe for mid-October implementation, as well as 35 cpp on FR ABS and PCABS products and 16 cpp for Valox effective for December 6th shipments.
Generally, compounders and other material manufacturers have initiated increases of upwards of 16 cpp for PC and more for other specialty lines.
Long term, there is no line of sight for significant price reductions of PC looking into 2022, or at least for the first half of the new year. These continued shortages are through Q4 and Q1/22 already, and, due to all the moving parts in this market, could extend through the entirety of 2022.
ABS –
Supply is looking to continue to be strained in the near term, and lead times are at the 20-week level. While demand is up, production is off the mark at 81% and expected to be lower this quarter based on planned maintenance and feedstock supply disruptions.
Ineos continues to run at 92% utilization rate for the plants but declared two FMs early October. One was issued on their styrene monomer due to 2 plants having issues at the same time in North America, and another based on production issues at their Ohio facility. The latter FM focused mainly on Standard Lustran® Mass products, primarily including 552, LTD and LK160 products.
There is little to no inventory of ABS in North America. Q1/21 production should increase dramatically, but the back log of orders will not make headway on the inventory needed moving forward—they'll make it, and it will be sold. The inventory outlook for ABS will be this way into Q2/22, and as inventories rise, prices are expected to slightly decline in the next 6 months. We will be fighting the issue of domestic ABS supply well into 2022 if not to the end of the new year.
ABS imports from late 2020 to present have been up through Q4 2021, though expected to be lower than 2022. Imports this quarter will represent 50% share of the US market during this time of lower domestic production. In 2022, China's capacity for ABS will increase and they will import less– meaning more materials will remain in the US, reducing costs towards the end of 2022. Long term, China will be self-supporting in terms of supply.
Additional Issues –
Shipping backups are still plaguing US ports, with backlogs and elevated shipping costs estimated to continue through the middle of next year.
As a result, companies are navigating these challenges the best they can. Avient announced on October 27th a $250 transportation surcharge effective November 8th.
We should experience slight relief after the holidays and Lunar New Year as container traffic wanes, but there are no immediate fixes for the underlying supply-demand imbalance at the ports. Labor shortages, transportation costs and congestion challenges are all mitigating factors in the logistics issue.
China's energy crisis becomes more apparent to the rest of the world. Rolling blackouts were very prevalent in the last 30 days. Locally, coal production was curtailed due to the Olympics and at the same time, they slowed importation of coal from Australia after human rights statements by Australia toward China. The Chinese government also pointed to the Paris Climate Accord as another reduction of supply of coal local.
The semiconductor market continues to be an issue with light vehicle production continuing to be reduced through Q4/21. Based on market data, most of the current supply is being pointed to China and not to North America at this time.
When semiconductors come back, the need for PC will surge, causing yet another shift to the entire market in terms of supply and increased demand (to be determined!). However, we most likely won't see this supply surge until the end of Q2/22 at best.
Additives in the manufacture of PC and ABS products are also under pressure. Force Majeures were declared by two producers of phosphorous-derived flame retardants and antioxidants late October, and BASF had an increase of 24% on their light stabilizers. They say this is due to the Chinese energy crisis which puts more pressure on the same demand with less supply available. They also have implemented surcharges with 'immediate' effect for UV products that they produce.
You are our valued partner, and Star Plastics appreciates and values your business. Please email us at Sales@StarPlastics.com or contact your local Star Plastics representative with questions.