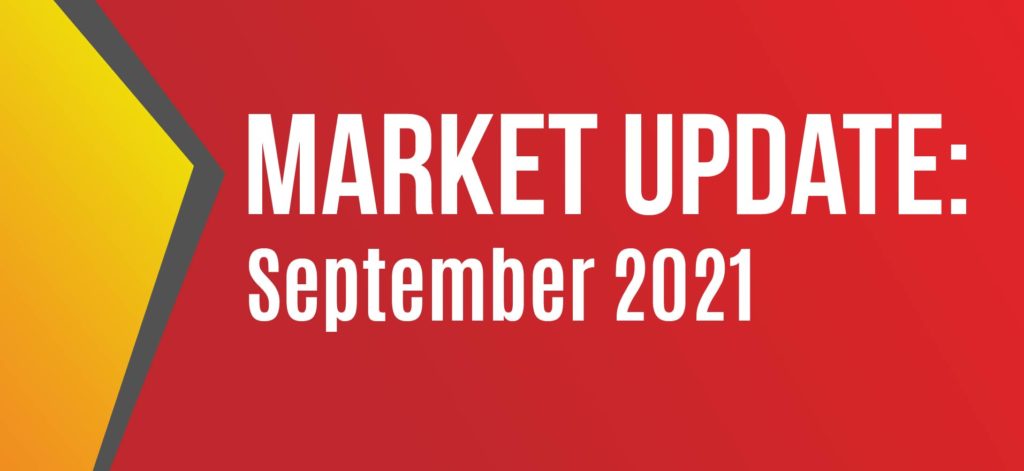 Hurricane Ida, which made landfall on Aug 29, topped the news cycle this month, affecting production of ethylene, butadiene, benzene, styrene and parazylene. Prices continued to heat up for virgin resin, with recycled material prices also joining the rise.  Then we saw further shortages on pigments, flame retardants and other additives.
Sales controls continue to be in effect for North American producers as tight resin supplies combined with ongoing challenges in logistics, labor, packaging, shipping, rail and trucking, and Asian imports retain their higher costs. Covid-related issues and labor shortages continue to threaten the economic outlook as well.
Hurricane Ida
Hurricane Ida is shaping up to be one of the five most expensive storms in recent history, from insurers costs, labor shortages, and disruptions in supply chains pushing up rebuilding costs. Ida's total losses were estimated at anywhere from $43 billion to $64 billion.
For the plastics industry, Ida took out 13% of Gulf Coast chemical production, affecting mainly PE, PP, ethylene, propylene, benzene, and plasticizers. These producers are still recovering from Ida and could face additional disruptions in the coming weeks, given this year's highly active Atlantic hurricane season. That means elevated prices and tight inventories for many major chemicals for the rest of this year and possibly much of 2022.
We'll watch this dynamic situation in the Gulf Coast as producers continue to come back online.
Supply Chain Issues
Much of the U.S. economy is struggling with strained supply chains these days. The chemical industry is no exception. While trying to keep up with high demand, producers are also still contending with a series of disruptions that have plagued the sector for much of this year, from a winter storm in February to Hurricane Ida, which took over 13% of U.S. chemical production offline earlier this month.
While plastics equipment shipments are up overall compared to 2020, shipments of injection molding and extrusion machinery in North America has decreased again in the Q2-21. This 6.9% decrease (compared to Q1-21) of shipments is despite an uptick in orders, and due to supply chain problems pushing back delivery schedules.
Logistics
The increased costs of logistics are starting to be passed on to the buyer, with single containers now commonly seen at $20,000.
This freight imbalance will continue as vessels are waiting at ports to be offloaded around the world – on average, 100 vessels are waiting in the Shanghai port and 40 on average at Long beach.
Inland freight is also constrained in North America due to lack of drivers and now equipment (with semiconductor and other parts shortages).
Resin Shortages
ABS
Prices are continuing to rise, with GP ABS increasing 7 cpp in September Supply is expected to be even shorter in Q4-21 due to hurricanes in the gulf coast and scheduled maintenance in October curtailing supply.
Sabic announced an increase for ABS at $0.20/kg early September for implementation on October 1st. However, Sabic is sold out through Q1/22, so if an order was entered today, the expected ship date would be in April or May 2022.
Domestic ABS overall is up 52 cpp, with 20% of that cost coming just in August and September – imports are also up 82 cpp year to date.
PC
Sales controls continue to be in effect for North American producers of PC and has seen an increase of 5 cpp in September.
Along with its early-September ABS price increase, Sabic also announced a $0.35/kg increase on PC for October 1 implementation. This comes with a high backlog of orders and no inventory to move, so lead times remain at 18 weeks with no end in sight.
Without more supply, demand will be outpaced, and these shortages will last well into 2022 before we start to see inventories available.
Additive Shortages
We've also seen shortages from additive suppliers for items used in material formulation and compounding. A major manufacturer of fiberglass recently announced a price increase of 12% to be implemented October 1st, and a global flame retardant manufacturer went on FM in August with an undetermined end date. Heat stabilizers and antioxidants used in the manufacturing of custom color alloys have increased 20% in cost, which is a price jump not seen in recent history.
Chip Shortage
The semiconductor chip shortage is ongoing, costing the global automotive industry $210 billion this year – which is up from May's forecast of $110 B—and the production of 7.7M vehicles. Exacerbating the existing chip shortage is continued COVID-19 lockdowns in Malaysia and shortages of other necessary production materials. This shortage is expected to last into June of 2022.
Asia
Guangdong province has introduced staggered peak power consumption rules to ease the pressure on the electricity supply, bringing shortages, to help ensure the safe operation of the power grid. Electricity consumption has increased over 15% YOY, due to heat waves that continue to hit the area.
Electric priority will be given to residential power consumers and the province's service industries, meaning companies and factories are receiving orders to limit their operations in one of the world's major production bases.
Moving Forward…
As we move into the fourth quarter of 2021, the material shortages, price increases, and logistics issues are continuing to persist. Without more supply of material, demand will be outpaced well into 2022—the supply demand imbalance will remain. In terms of pricing, Q4 will surely see more increases, with the hope that 2022 will see them begin to trend lower. We will continue to follow the situation in the Gulf Coast as producers begin to recover, as well as keeping an eye on the Atlantic hurricane season as we come to its end in the next month.
You are our valued partner, and Star Plastics appreciates and values your business. Please email us at Sales@StarPlastics.com or contact your local Star Plastics representative with questions.